There have been many different posts about deploying Office 365 with SCCM. The majority of them used the Office Configuration tool in a more or less creative way.
An easier method has been available for awhile to help SCCM admins to create the "perfect" Office 365 package. The SCCM Office 365 Installer is a new feature released in SCCM 1702. SCCM Office 365 Installer provides an easy-to-use wizard to define every related item for an Office 365 application.
Whether you are new to creating Office 365 package or simply want to refresh an older package, this solution will ease every step of creating an Office 365 package.
In this post, we will detail how to use the Office 365 Installer creation wizard.
If you are looking for How to Update Office 365 using SCCM, see our previous post.
Prerequisites
SCCM Current Branch 1702 and up
Create SCCM Office 365 Installer Package
Browse to Software Library / Office 365 Client Management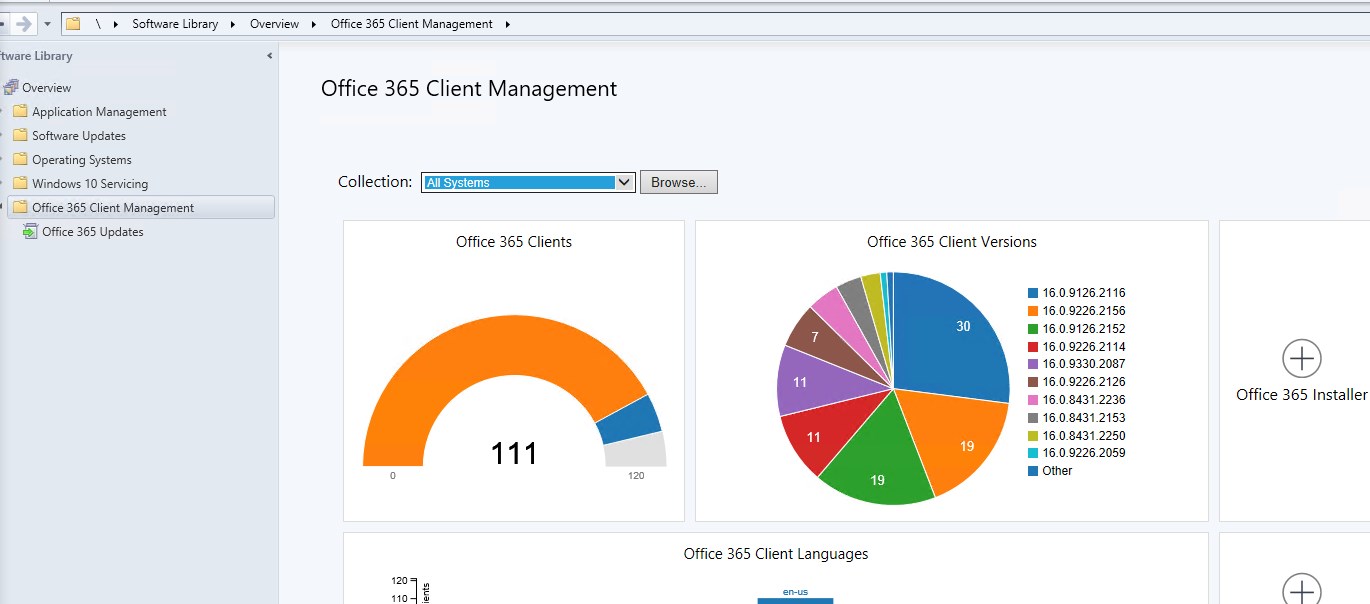 Select Office 365 Installer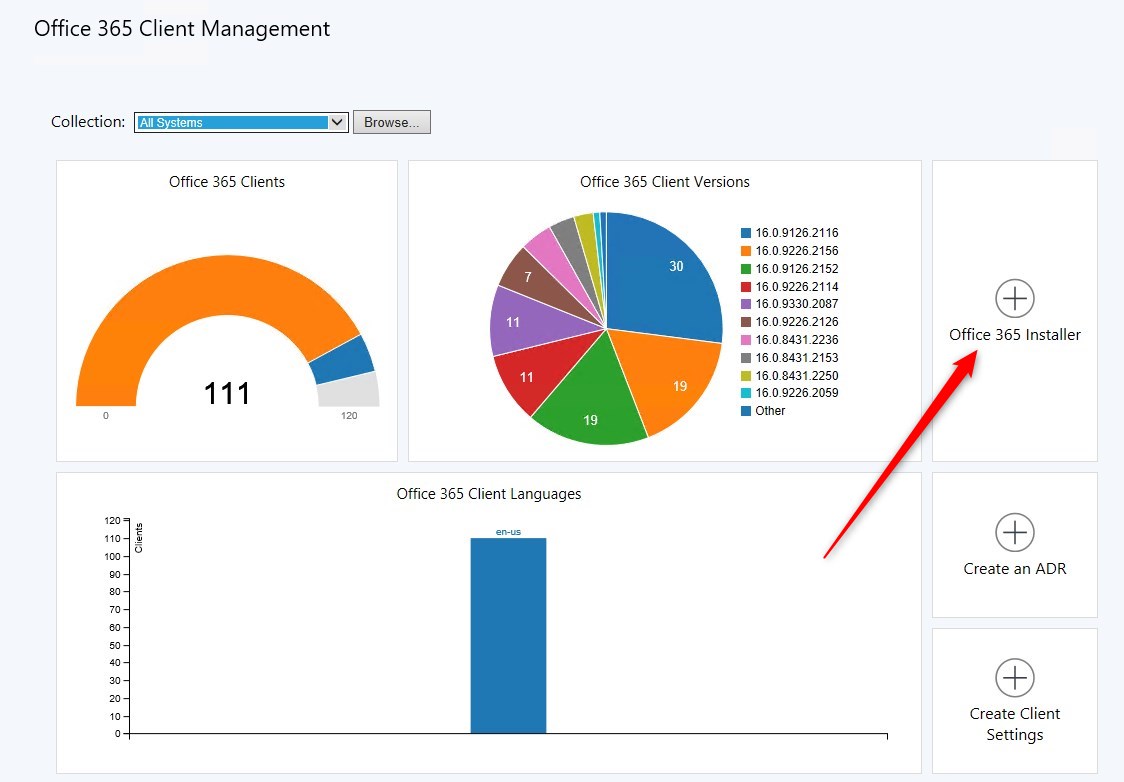 Define the Name and Network path to store the content for the Office 365 installation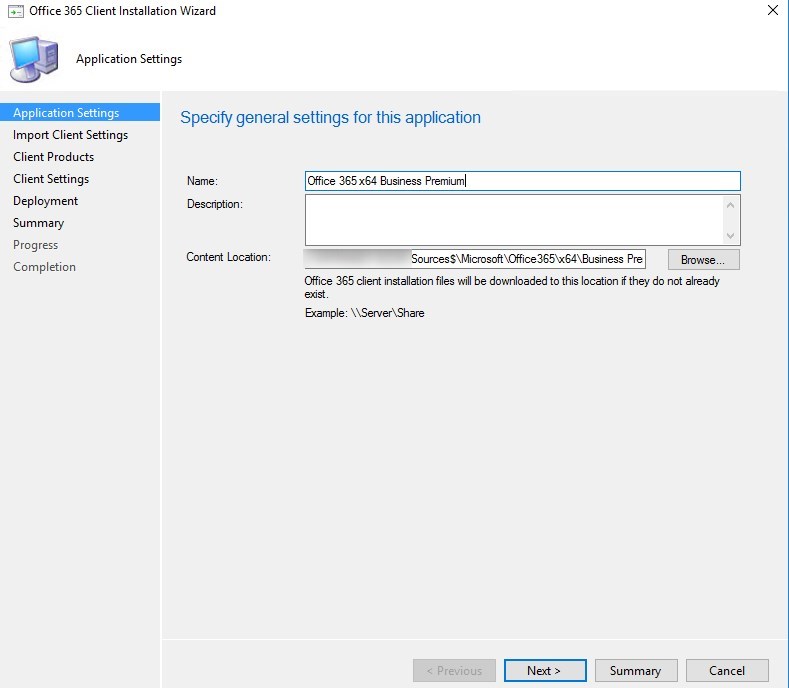 Select Manually specify the Office 365 client settings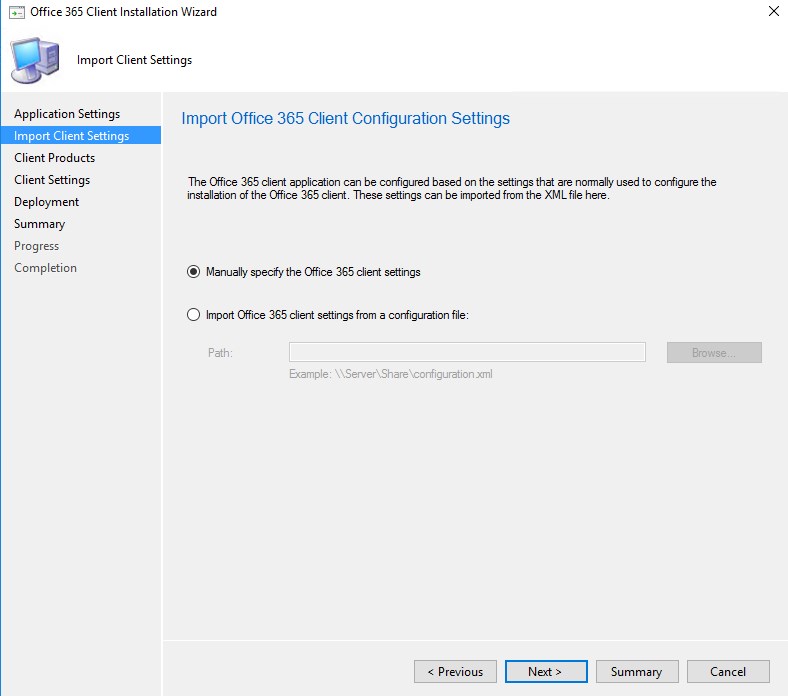 Select

Suite:
Applications :

Acces
Excel
OneDrive for Business(Groove)
OneDrive (Desktop)
OneNote
Outlook
PowerPoint
Publisher
Skype for Business
Word

Additional products:

Project
Visio
Remember that licenses are required even if installed
Important Info
Be careful about OneDrive for Business(Groove). This is usually no longer used and confusing because of the naming.
OneDrive (Desktop) is the one to be used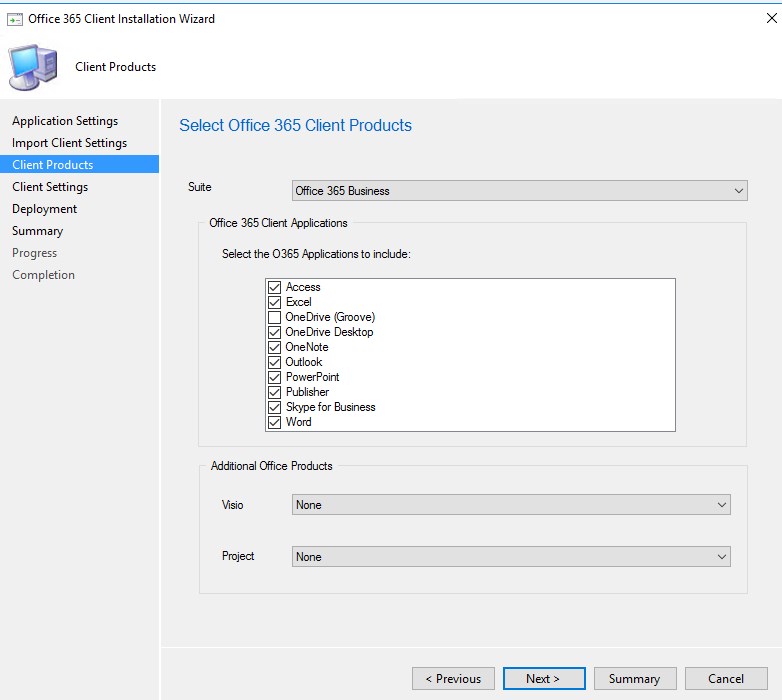 Select

Architecture
Version: leave blank for the latest release

Channel:

Monthly
Semi-Annual Channel (Targeted)
Semi-Annual Channel
More details on Office 365 channels on Microsoft documentation

Languages
 Properties

Accept EULA
AutoActivate
Shared Computer Activation
Pin icons to the taskbar (Win7/8.x only)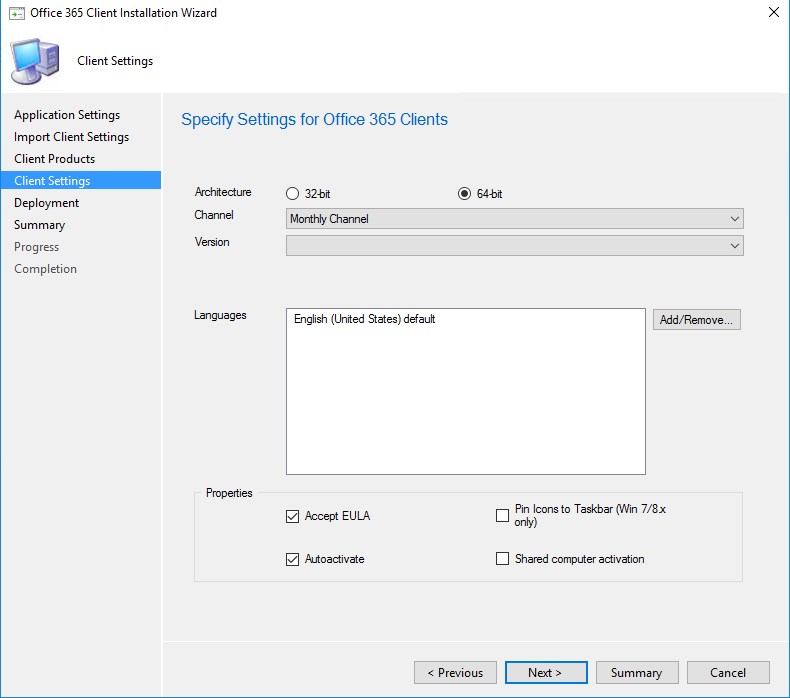 A prompt will display when selecting the Accept EULA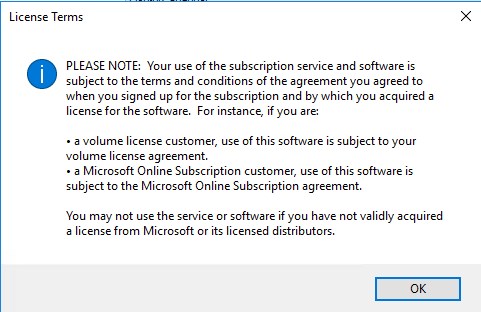 Select to deploy the application now or not. Deploying it now will also ask to distribute the content.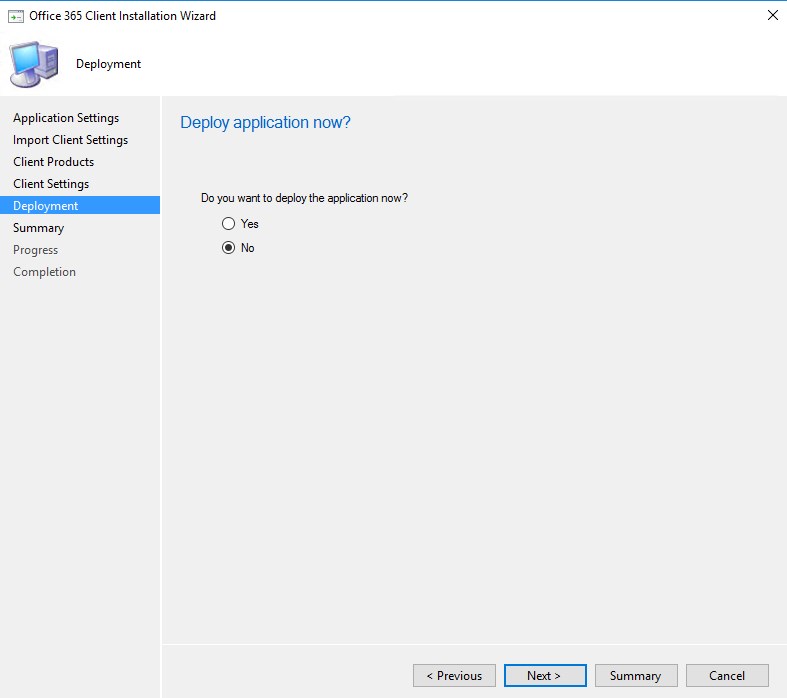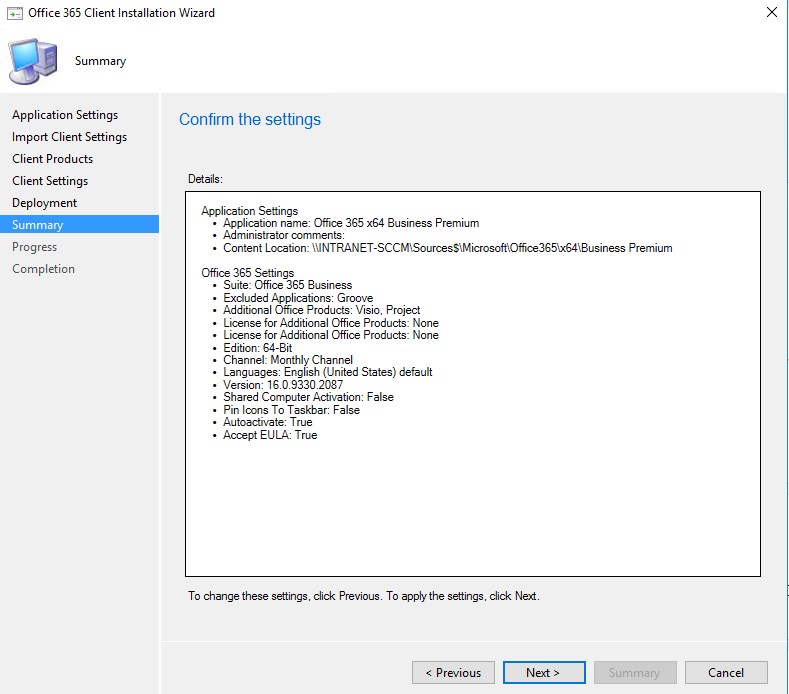 Progress, this will actually download the content to install Office 365. It will take some time.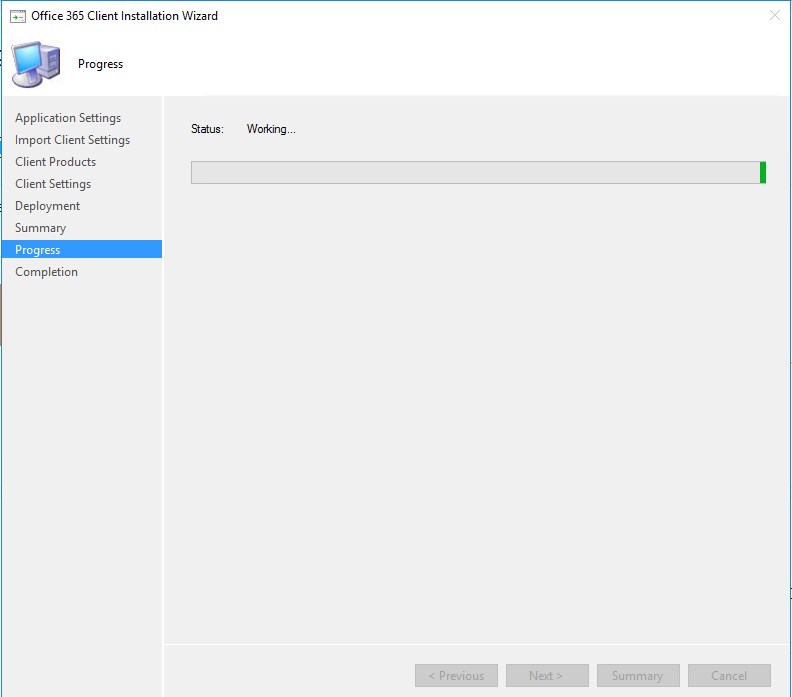 Result
The content folder has the Office Deployment tool, configuration.xml and actual bits of the Office click-to-run installer

Configuration.xml has almost all the required information in it.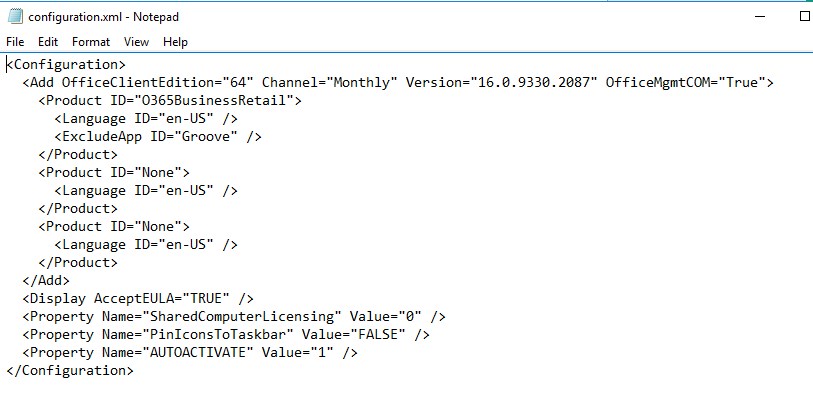 Important Info
The only thing that is not part of the configuration.xml is the Display Level.
We recommend adding Display Level="None", so there is no prompt for a user or to run in a Task Sequence.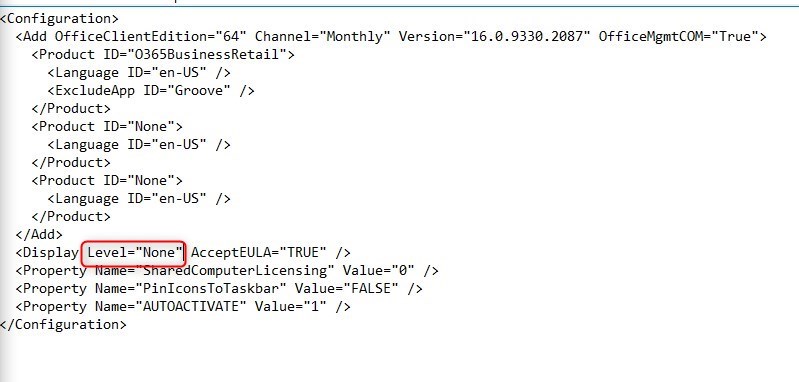 For more details about the configuraiton.xml, see Microsoft Documentation.
An application is automatically created at the root of Software Library / Application Management / Applications

The Detection method is automatically populated.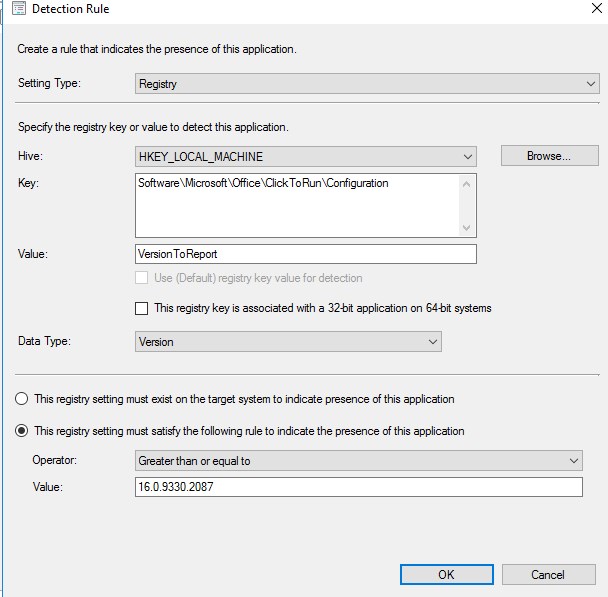 This is by far the easiest method to create an SCCM Office 365 application or package. No problem of syntax in the Configuration.xml, no problem to define the Detection Rule.
SCCM Office 365 Inventory Report
Remember to look at our free Office 365 report to keep track of your deployed version and channel.