This post is a how-to-guide on how to fix: KB2919355 The software change returned error code 0X87D0070C
KB2919355 Update is a cumulative update that includes all previously released security updates and non-security updates that were released before March 2014. This cumulative update is available for deployment using the software updates into Configuration Manager.
KB2919355 error code 0X87D0070C
When trying to install this update with SCCM your gets a failed status in Software Center.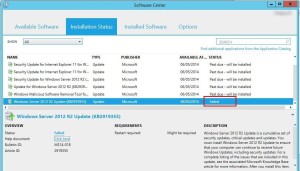 When looking at the error details, you get :
"The software change returned error code 0X87D0070C (-2016409844)"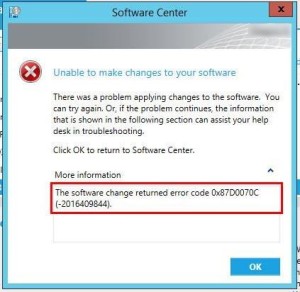 This get translated to : "Software update execution timeout".
Looking at the Software Update properties in SCCM (Software Library – Software Update – All Software update), we can see that this error is set to a maximum run time of 10 minutes.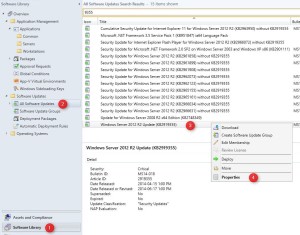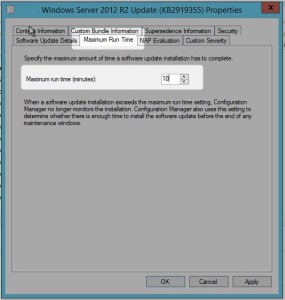 This update is considered as a "Standard" update which get a maximum run time of 10 minutes. However this update is 700mb which looks more like a service pack.
Change the value of "Maximum Run Time" to 60 minutes and click apply.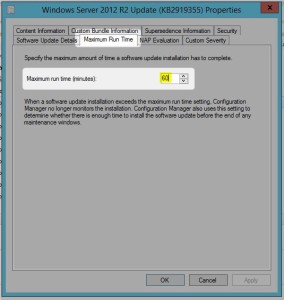 Relaunch the installation and voila ! The update will install correctly.
Bonus tips: Be sure to set your maintenance windows accordingly to allow this update.
Maintenance windows enable you to define a time when Configuration Manager operations can be carried out on a device collection. You use maintenance windows to help ensure that client configuration changes occur during periods that don't affect productivity.