Desktop Analytics is a cloud-based service that integrates with Configuration Manager. Desktop Analytics is now available and replaces Windows Analytics, which retired on January 31, 2020.
When you integrate Desktop Analytics with Configuration Manager, it provides insight and intelligence for you to make more informed decisions about the update readiness of your Windows clients. It combines data from your organization with data aggregated from millions of devices connected to Microsoft cloud services.
Following are the benefits of Desktop Analytics:
Device and software inventory: Inventory of apps and Windows version.
Pilot identification: Identify your group pilot for a test deployment before going in production
Issue identification: Using aggregated market data along with data from your environment, the service predicts potential issues to getting and staying current with Windows. It then suggests potential solutions.
Configuration Manager integration: The service cloud-enables your existing on-premises infrastructure. Use this data and analysis to deploy and manage Windows on your devices.
One of the things that SCCM is currently missing is SCCM Desktop Analytics reports.
When you implement Desktop Analytics in your infrastructure, there are no custom reports that you can use to monitor the connection health status except the connection health dashboard that is available in the console.
If you want to monitor the desktop analytics connection health status, you can launch the console and monitor the status and troubleshoot the client issues that have enrollment issues but it's not really practical.
Also, note that monitoring the connection status using the console takes a few clicks every time to see the list of clients that have connection health issues and it consumes a lot of time.
What if you have a custom report to monitor the connection health that provides you all the information that you need to be aware and client health status that is failing to enroll in Desktop Analytics service?
We have an SCCM Desktop Analytics report for you to monitor the desktop analytics health and also list all the devices with their enrollment status.
This report can be run against a specific collection to know the status of clients in DA.
This report has the following details:
Desktop Analytics connection
Desktop Analytics last synchronization
Connection health with a count of devices based on its enrollment status
Top 5 issues of enrollment failures
List of devices that are eligible for DA with its status.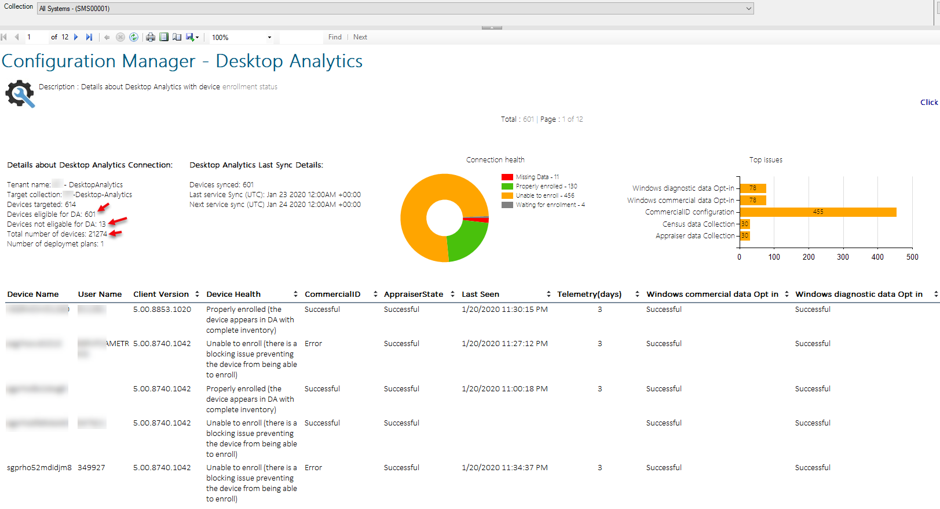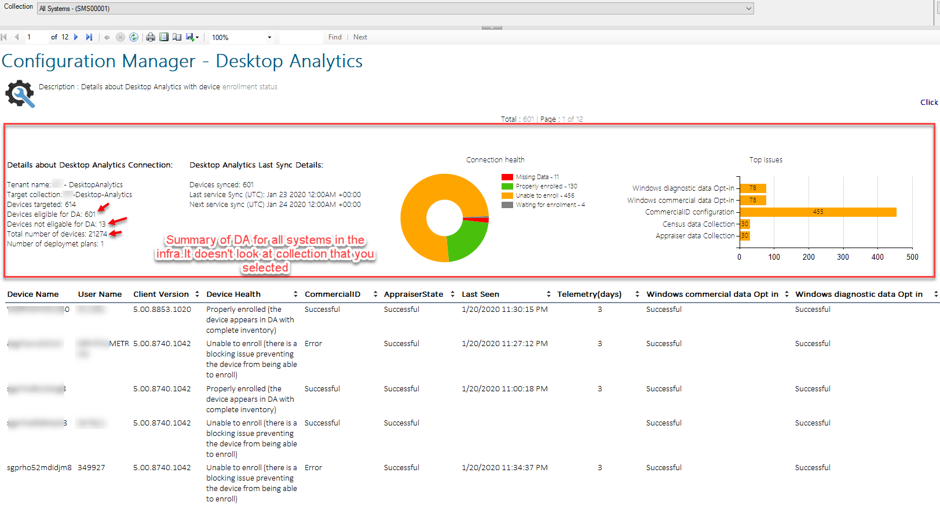 The list of devices shown in the report are excluded with the following as they do not qualify for DA:
Decommissioned
Obsolete
Inactive
Unmanaged
Devices running Long Term Servicing Channel (LTSC) versions of Windows 10
Devices running Windows Server
If you run the report against any collection that has the clients with the above criteria, they won't show up on the device list.
SCCM Desktop Analytics Report – Download
You can download this report by visiting our new online shop
For more information about the description of enrollment status, refer to the Microsoft documentation.