Problem – the Microsoft software license terms have not been completely downloaded
SMS_WSUS_SYNC_MANAGER state is critical even if it worked in the previous months. Wsyncmgr.log shows the error on 2 updates : The Microsoft Software License Terms have not been completely downloaded and cannot be accepted
Environment in use when this issue occurs
SCCM 2012 R2
SQL 2012
Windows 2012 R2

Event viewer/Application Logs shows Access Denied errors on a different patch.

Resolution of this issue
The Wsuscontent directory was missing an NTFS permission. I added the "Network Service" account full control on the directory and sub-directory and launch a new sync. Everything sync successfully.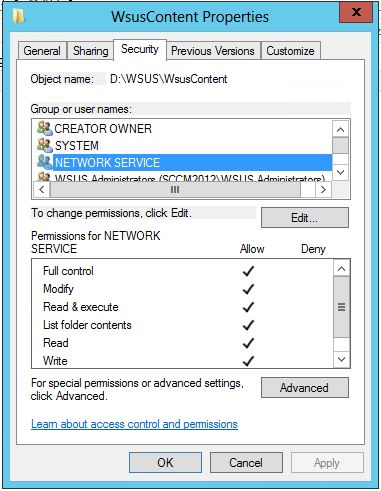 All the details come from Technet :
The following permissions are configured during WSUS setup, and are important for BITS downloads to work:
The root folder on the drive where the WSUSContent folder resides (for example, <%windir%>\WSUS\WSUSContent) must have Read permissions for either the Users account or the NT Authority\Network Service account (on Windows 2003). If this permission is not set, BITS downloads will fail. Note: this is the permission that WSUS setup does not configure, so make sure the permissions are set as described here
Let us know if this tip was helpful for you by using the comments section.