Boundaries and boundary groups in Microsoft Endpoint Configuration Manager play an important role in site assignment, policies , content download etc. The client is unusable unless site assignment, boundaries and boundary groups are configured. It's the basis you need to understand in an SCCM implementation. Configured incorrectly, your clients may get content from the wrong site system.
We created a set of reports to ease your SCCM boundary management. If you're used to SCCM boundary and their definitions, you can skip the article and jump to the SCCM Boundary Report section.
You can create boundaries with different types as listed below:
IP subnet
Active Directory site name
IPv6 prefix
IP address range
For more information about boundaries and boundary groups, refer to the Microsoft Documentation.
Starting with SCCM 1802, Microsoft introduced fallback options for boundary groups. This helps clients to expand their search to additional boundary groups to find an available site system.
Boundary references: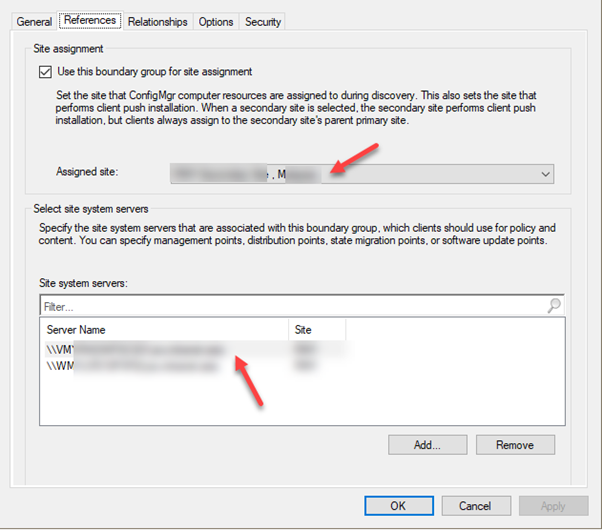 Boundary group relationships: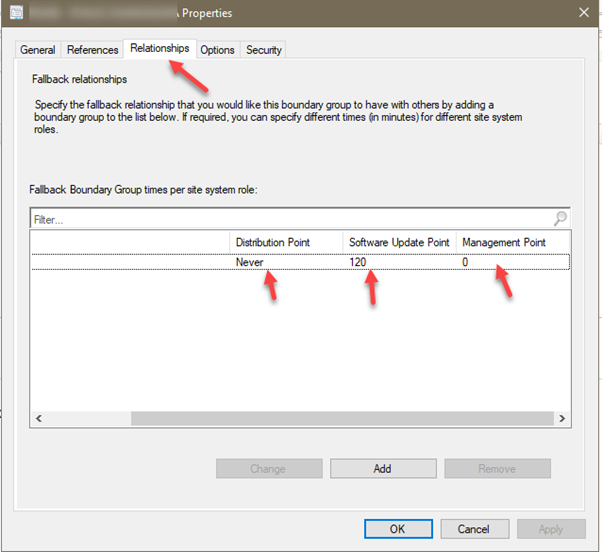 With so many options for boundaries and boundary groups, validation of site systems, site assignments, fallback options can be a confusing and tedious process.
SCCM Boundary Reports
There are no built-in reports in SCCM for you to monitor the boundary configuration settings. We decided to develop a bundle of reports that help you to identify and monitor the boundary configurations of your SCCM site. This set of SCCM Boundary Report will help you :
Quickly identify specific boundary information with its assigned site, site systems and fallback options
Troubleshoot content downloads and site assignment issues
Track the fallback options for boundaries with its site system names
The bundle contains 2 reports :
Configuration Manager – Boundaries
This report list all the boundaries along with site assignment and site systems. You have the flexibility to search for a specific site system, boundary type, site system count, boundary description name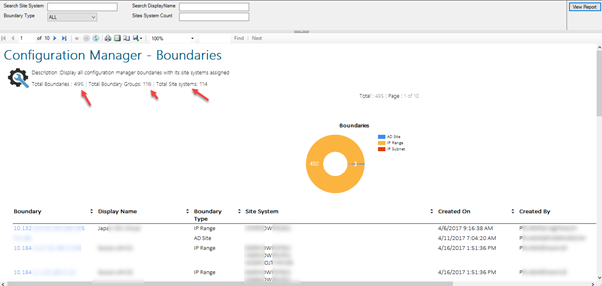 Following are the parameters explained:
Site system: Key in site system name
Display Name: the Display name of the boundary
Site system count: This will be the count of site systems that are assigned to the boundary. Ex: You configured boundary and assigned with 2 site systems (MP/DP/SUP/SMP)
If you want to see the boundary group configurations for a specific boundary then, you can click on any boundary that you see in the report. This will open the second boundary report :

As you can see above, the selected boundary is configured with the site system and fallback options are also configured for this boundary.
The second report (Boundary groups) helps you to get a list of all boundary groups with site system names, fallback options configured (if they are applicable).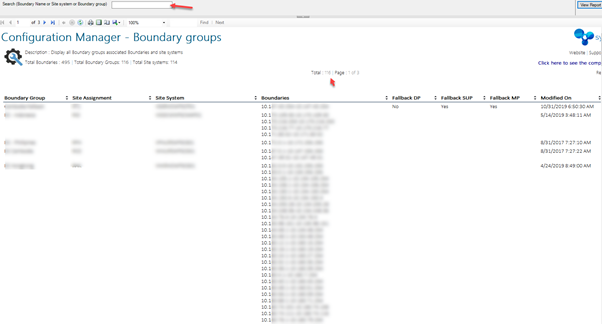 This report is a must if you have lots of boundaries and groups. If you're interested in our product :
Download the report File (RDL) from our product page, in the Configuration Manager report section
Upload the report to your Reporting Point and change the data source
Run the report