Windows 11 has been officially announced on June 24th, 2021 and the first ISO was released last week. Windows 11 is coming and as an SCCM administrator, you must get ready to deploy this new OS. We released a complete post on everything you need to know about this major OS release. This blog post will focus on Windows 11 readiness. How can you ensure that your device will be ready to install Windows 11? The best solution as of today is to build an SCCM Windows 11 report to list which device is ready and which needs attention.
Windows 10 was specifically designed to run on older hardware, Windows 11 requires new hardware and you'll not be able to install it on older PCs. Most PCs built-in 2019 or later will work with Windows 11, although there are some exceptions. Older hardware is less likely to pass Windows 11's prerequisites checks. PCs purchased in 2016 or earlier are almost certain to be unsupported.
Windows 11 also requires a Trusted Platform Module (TPM), UEFI firmware (no legacy BIOS allowed) and Secure Boot. Virtually all PCs designed and built since 2015 include TPM 2.0 support, but you might have to go into the firmware settings to enable it.
Here are Microsoft official requirements needed for Windows 11
| | |
| --- | --- |
| Processor: | 1 gigahertz (GHz) or faster with 2 or more cores on a compatible 64-bit processor or System on a Chip (SoC) |
| RAM: | 4 gigabyte (GB) |
| Storage: | 64 GB or larger storage device |
| System firmware: | UEFI, Secure Boot capable |
| TPM: | Trusted Platform Module (TPM) version 2.0 |
| Graphics card: | Compatible with DirectX 12 or later with WDDM 2.0 driver |
| Display: | High definition (720p) display that is greater than 9" diagonally, 8 bits per colour channel |
As you can see, there's a couple of checks to install Windows 11. If you have SCCM installed on your devices, you can build a report to find your compliant devices. We have good news for you: We built it for you and it's available for free!
Windows 11 Readiness Report
Updated 2022/02/17 :
We build this report to list which machines could or be couldn't install Windows 11 based on Microsoft recommandation.
Here are the detailed specifications of the report :
List : Device Name, UserName, Client Status, Client Version, OS Edition, OS Version, OS Branch, CPU Speed, Supported Intel CPU, RAM, Free Space, Device Manufacturer, Device Model, Secure Boot Status, UEFI Bios status, TPM version and status

6 comprehensives pie charts to list a count of compliant devices in each categories

Red hightlight if a component did not match Microsoft minimum requirement

You can scope the report using a Collection or enter a device name to show its status. You can also choose to display only non-compliant devices.

Download the SCCM Windows 11 report
The report is available for free on our shop website. All you need to do is to download the report and install it on your reporting server. You can read our blog post on how to install a report if you need clarification.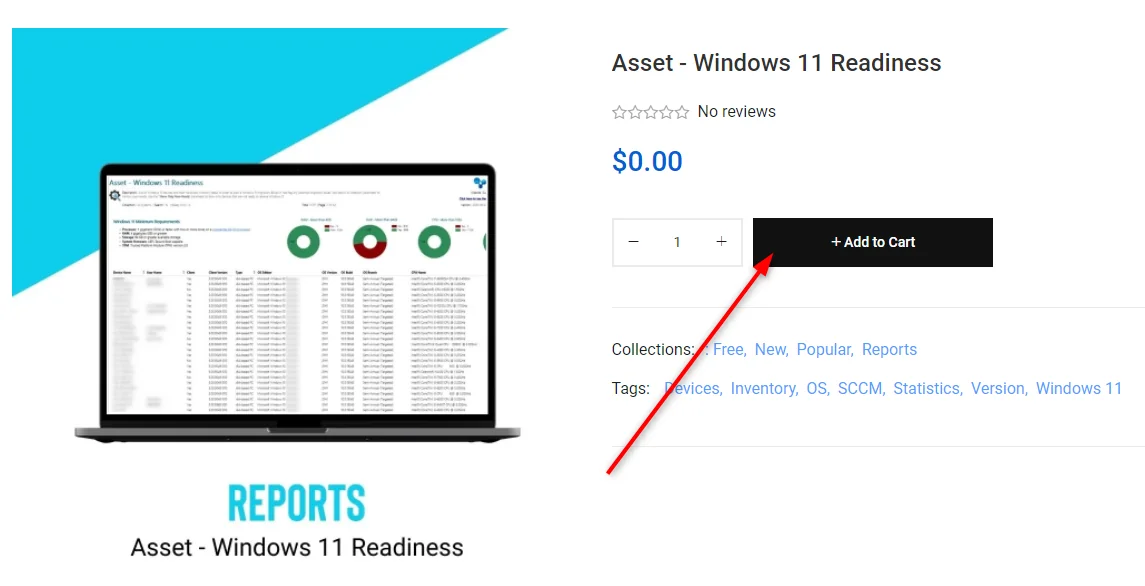 We hope this report is useful. Please share your comment if you have any ideas to improve it !