Download and own this SCCM Installation Guide in a single PDF file.


The PDF file is a 162 pages document that contains all informations to install and configure SCCM Current Branch. Use our products page or use the button below to download it .
In this part of SCCM 2012 and SCCM 1511 blog series, we will describe how to install SCCM 2012 R2 or SCCM 1511 State Migration Point (SMP).
Role Description
The State Migration Point stores user state data when a computer is migrated to a new operating system.
This is not a mandatory Site System but you need a State Migration Point if you plan to use the User State steps in your Task Sequence. These steps integrates with User State Migration Tools (USMT) to backup your user data before applying a new operating system to a computer.
Site System Role Placement in Hierarchy
The State Migration Point is a site-wide option. It's supported to install this role on a child Primary Site, stand-alone Primary Site or Seconday Site. It's not supported to install it on a Central Administration site.
Beginning with SCCM 2012 R2, the State Migration Point can be installed on the site server computer or on a remote computer. It can be co-located on a server that have the distribution point role.
SCCM 2012 State Migration Point Installation
Open the SCCM console
Navigate to Administration / Site Configuration / Servers and Site System Roles
Right click your Site System and click Add Site System Roles
On the General tab, click Next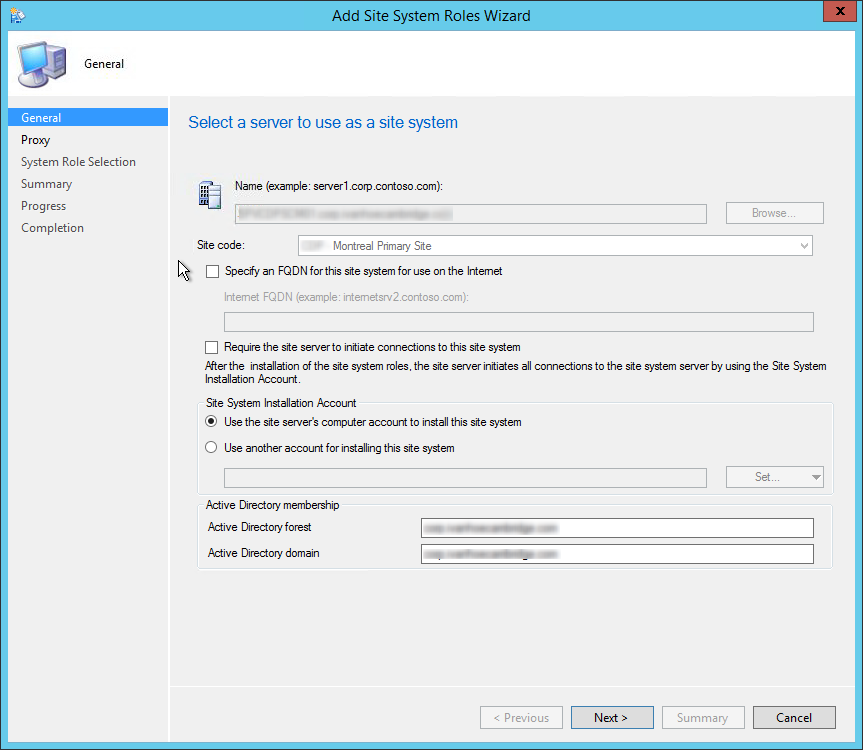 On the Proxy tab, click Next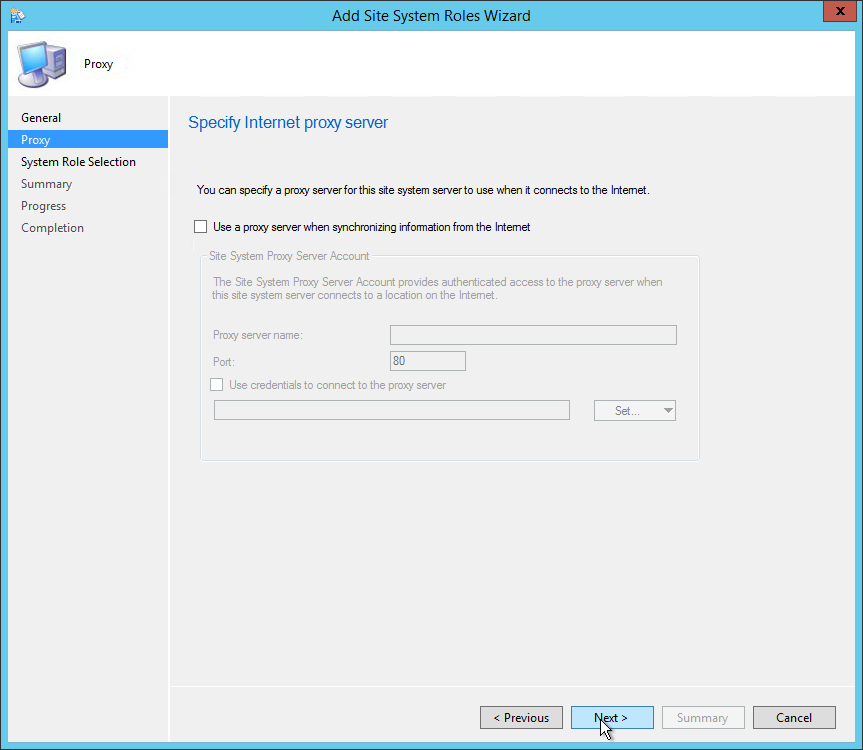 On the Site System Role tab, select State Migration Point, click Next
On the State Migration Point tab

Click the star icon, specify the folder where you want the data to be stored and how much space must be reserved on the drive
Specify the Deletion Policy. This is the delay to keep the data after a successful restore.
Enable Restore-Only mode if needed. Use this setting if you want your SMP to be in read-only mode. This is useful if you replace or decommission an existing SMP
On the Boundary Groups tab, add the boundary group that can access the State migration Point. If you add the role on a site system that already has the Distribution Point role, the boundary group of this DP will already be listed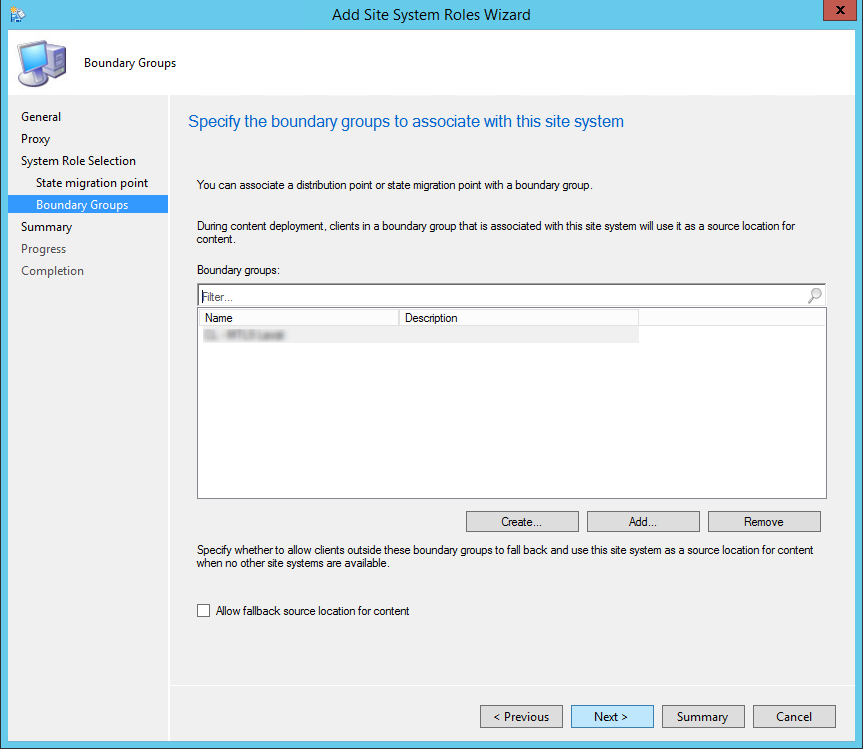 On the Summary tab, review your settings, click Next and complete the wizard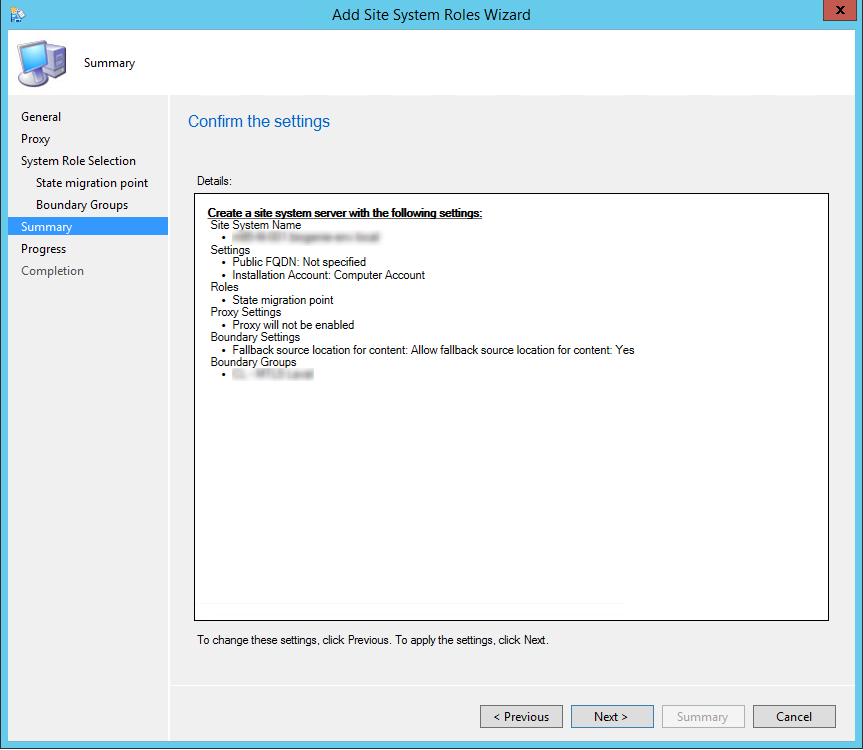 Verification and Logs files
You can verify the installation in the following logs:
ConfigMgrInstallationPath\Logs\Smssmpsetup.log – Detailed State Migration Point Installation status
ConfigMgrInstallationPath\Logs\Smpmsi.log – Provides information about the State Migration Point
If you have any error in the installation process refer to this post that explains the permission needed for the SMP to install correctly.
Create the USMT Package
To store the user state data on a State Migration Point, you must create a package that contains the USMT source files. This package is specified when you add the Capture User State step to your task sequence.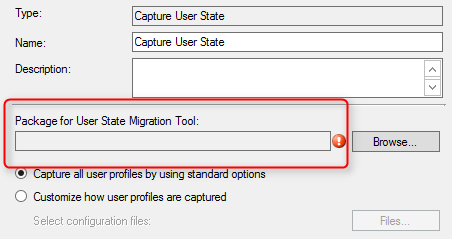 On your SCCM Server where you installed Windows Deployment Toolkit, browse to : C:\Program Files (x86)\Windows Kits\8.1\Assessment and Deployment Kit\User State Migration Tool

If you don't have this folder, it's because you haven't installed the USMT (included in Windows ADK) during your SCCM Installation

Copy the folder content in your Content Library (In my example D:\Sources\OSD\USMT)

Open the SCCM Console
Go to Software Library / Application Management / Packages
Right-click Packages and select Create a new package
Enter the Name, Manufacturer, Language
Check the This package contains source files check-box and specify your source folder (D:\Sources\OSD\USMT)
Click Next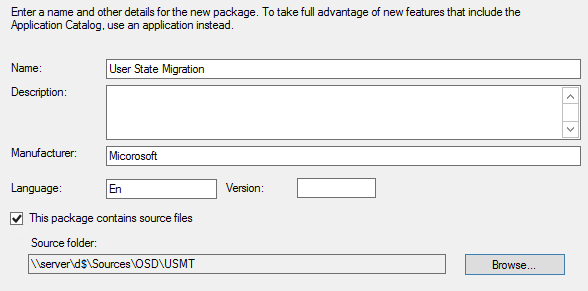 On the Program Type tab, select Do not create a program and click Next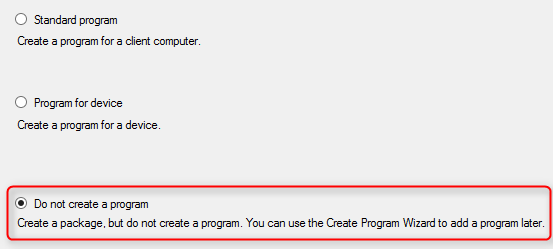 Complete the Create Package wizard
The State Migration Point and the USMT package are now ready for use in an OSD Task Sequence using the Capture User State and Restore User State steps.