Windows as a service provides a new way to think about building, deploying, and servicing the Windows operating system. Microsoft will releases new builds two to three times per year rather than the traditional upgrade cycle. Instead of doing traditional Windows deployment projects, you will need a continuous updating process which will reduce the overall effort required to maintain Windows 10 devices in your environment.
SCCM Windows 10 Upgrades Summary
This post will look at the available tools in SCCM to manage and deploy Windows 10 upgrades. We have broken down the post in 4 different sections :
Windows 10 Servicing Dashboard
What's missing in the Windows 10 Servicing Dashboard
Windows 10 reports
Windows 10 Collections
SCCM Windows 10 Servicing Dashboard
The Windows 10 servicing dashboard provides information about Windows 10 computers in your environment, active servicing plans, compliance information, and so on. Let's get a look at the different dashboard tiles: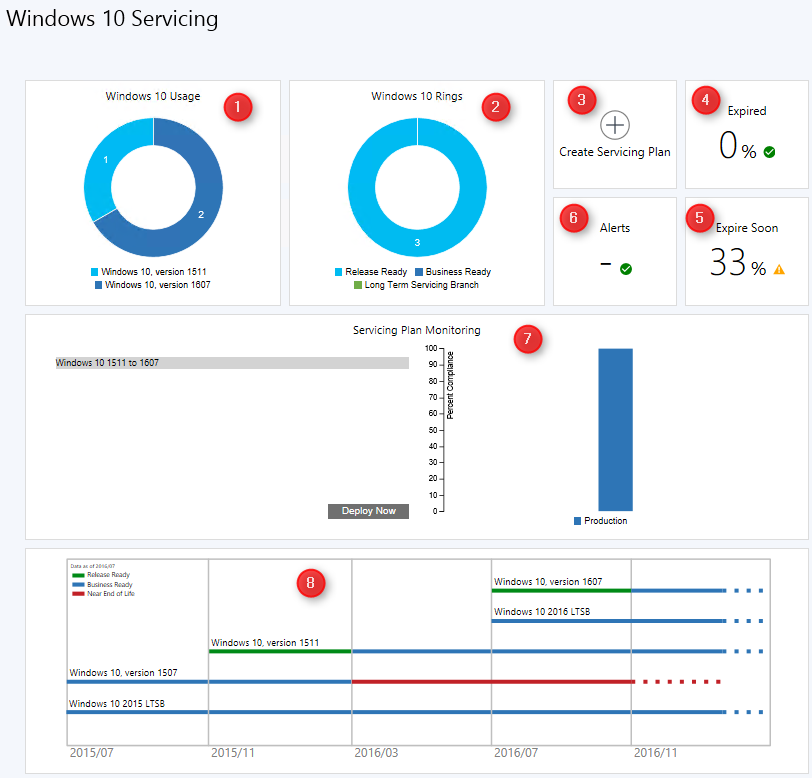 Windows 10 Usage tile (1): Provides a breakdown of Windows 10 builds. Windows Insiders builds are listed as other as well as any builds that are not yet known. The Service Connection Point is responsible of this data.
Windows 10 Rings tile (2): Provides a breakdown of Windows 10 by branch and readiness state . The LTSB segment will be all LTSB versions (For example : Windows 10 LTSB 2015). The Release Ready segment corresponds to Current Branch (CB), and the Business ready segment is Current Branch for Business (CBB)
Create Service Plan tile (3): Provides a quick way to create a servicing plan
Expired tile (4): Displays the percentage of devices that are on a build of Windows 10 that is past its end of life. The computers in this category should be upgraded to the next build version. We'll talk about the available options later in this post. (Task Sequence and Services Plans)
Expire Soon tile (5): Displays the percentage of computers that are on a build that is near end of life (within about four months), similar to the Expired tile
Alerts tile (6): Displays active alerts
Service Plan Monitoring tile (7): Display servicing plans that you have created and a chart of the compliance for each. This gives you a quick overview of the current state of the servicing plan deployments. If an earlier deployment ring meets your expectations for compliance, then you can select a later servicing plan (deploying ring) and click Deploy Now instead of waiting for the servicing plan rules to be triggered automatically
The Windows 10 Builds tile (8): Display is a fixed image time line that provides you an overview of the Windows 10 builds that are currently released and gives you a general idea of when builds will transition into different states.
What's missing in the Windows 10 Servicing Dashboard
The Windows 10 Servicing Dashboard is a good starting point but it lacks important functions to be able to do your work to update Windows 10 as tiles are not clickable :
What if I need to have the list of Windows 10 devices per rings or versions ?
What if I need to have the list of Windows 10 that are Expired or Expiration Soon
In our example 33% of my devices are in the Expiration Soon state. Great, but how many devices is that ? A simple tooltip showing the number would have been a nice idea.
For those reasons, we decided to make your life easier by developing tools to help with your Windows 10 upgrades deployments.
Windows 10 Reports
Unfortunately, there's no built-in report to track your Windows 10 devices. Some report in the Upgrade Assessment may help you but some of those reports are limited to Windows 7 and Windows 8. We decided to create our own Windows 10 report. Similar to the Windows 10 dashboard visually but which can easily list machines in different support state and their inventory.
See our Asset – Windows 10 report page to see the complete feature list.

Windows 10 Collections
As for any other deployments, you will need to create your own device collections in order to deploy your Windows 10 service plans or task sequences. Our Set of operational collections contains 67 collections which contains 9 Windows 10 collections to begin with :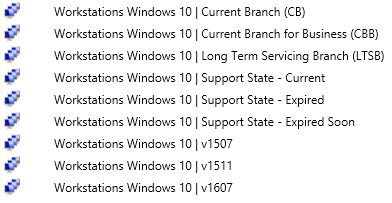 Service Plan Vs Task Sequences
Once you've targeted your Windows 10 devices to upgrade, it's a matter of deploying a service plan or a task sequence to those machine to keep them in the right support state. To decide which methods suits your organisation needs, read our complete step-by-step post which guide you thought the whole process :
Using a combination of the tools provided in this post, you should be set to start your Windows 10 as a service management. Feel free to provides tips and other tools that make your life easier using the comment section.