Starting with Windows 10, version 1607, you can create a deep link to launch the Windows 10 enrollment app using an URI link. This allows to send a user-friendly display text to your user to simplify their device enrollment. You can use this link in an email sent to your users or add this link to an internal web page that users refer for enrollment.
The URI link must use the following format :
ms-device-enrollment:?mode=mdm
At the time of this writing, the only supported mode value is mdm.
[su_box title="Note" style="glass" box_color="#000000″ title_color="#F0F0F0″]Starting with Windows 10, v1607 deep linking is only supported for connecting devices to MDM. It will not support adding a work or school account, joining a device to Azure AD, and joining a device to Active Directory.[/su_box]
User Experience using Windows 10 Deep Link Enrollment
When clicking the link, Windows 10 will launch the enrollment app in a special mode that only allows MDM enrollments.
For example, you could send the following link to your users :  Click here to enroll your Windows 10 device
This is fairly straight forward, no need to explain to the user how to find the enrollment app. (This process is similar to the Enroll into device management option in Windows 10, v1511).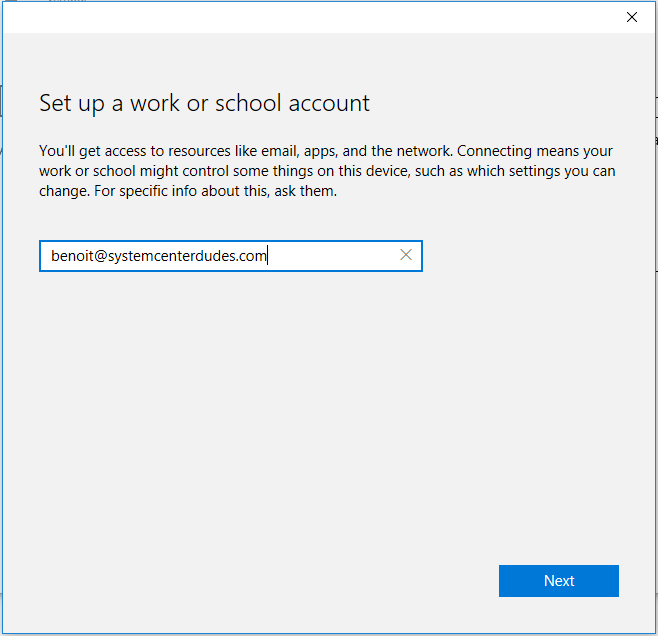 If the device finds an endpoint that only supports on-premises authentication, the page will change and ask for the user password. If the device finds an MDM endpoint that supports federated authentication, the user will be presented with a new window that will ask additional authentication information. Users may also be prompted to provide a second factor of authentication if your IT policy requires it.
After you complete the wizard, your device will be connected to your organization's MDM.
Log files
If anything goes wrong, you can collect logs by going to :
 Settings / Accounts / Access work or school
Click the Export your management logs under Related Settings section
Click Export and follow the path displayed to retrieve your log files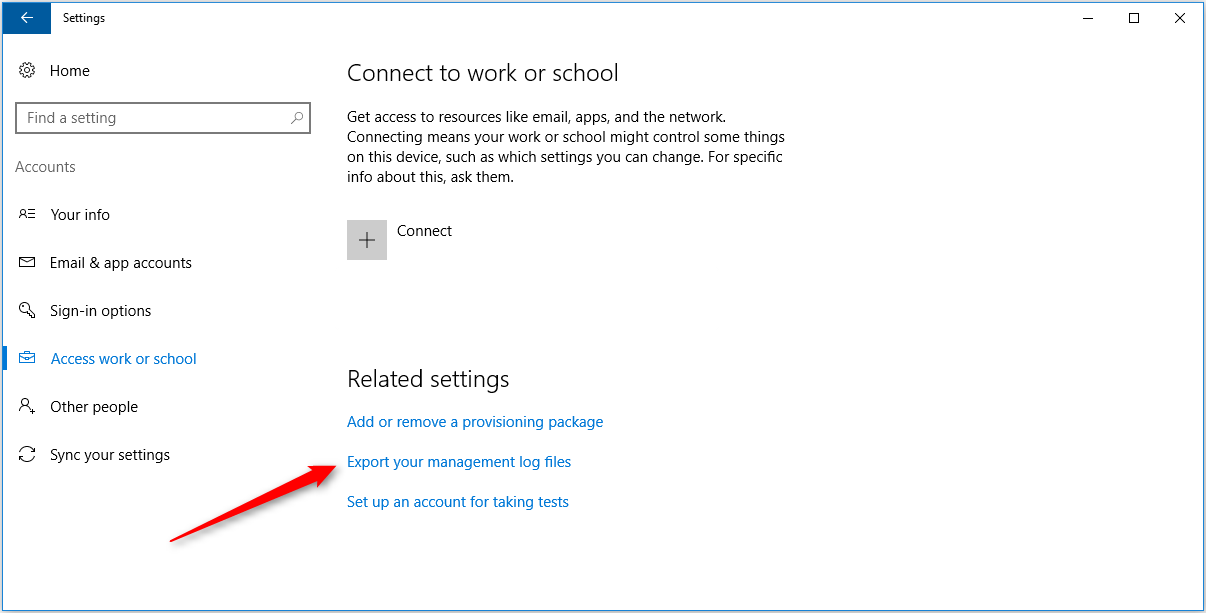 See this Technet article for further details about MDM enrollment and Windows 10 deep link enrollment.