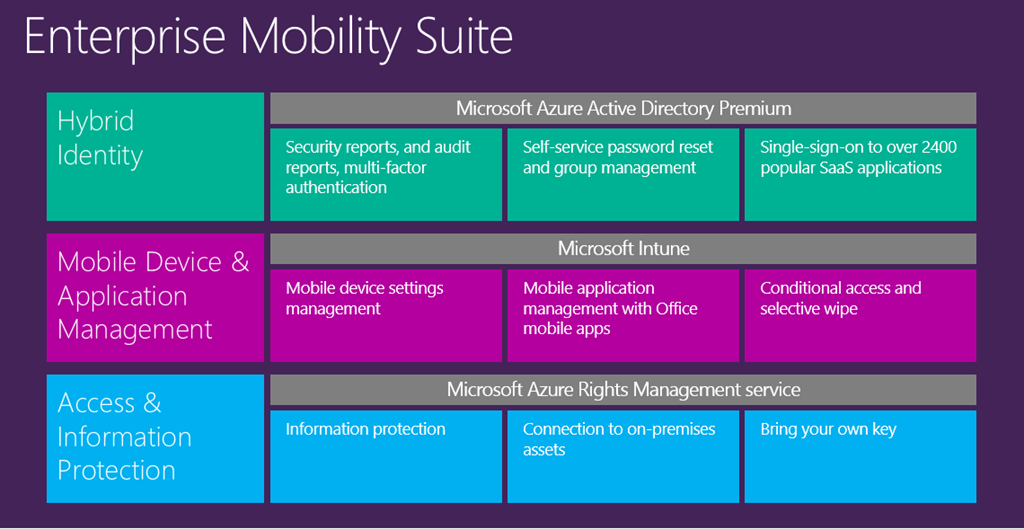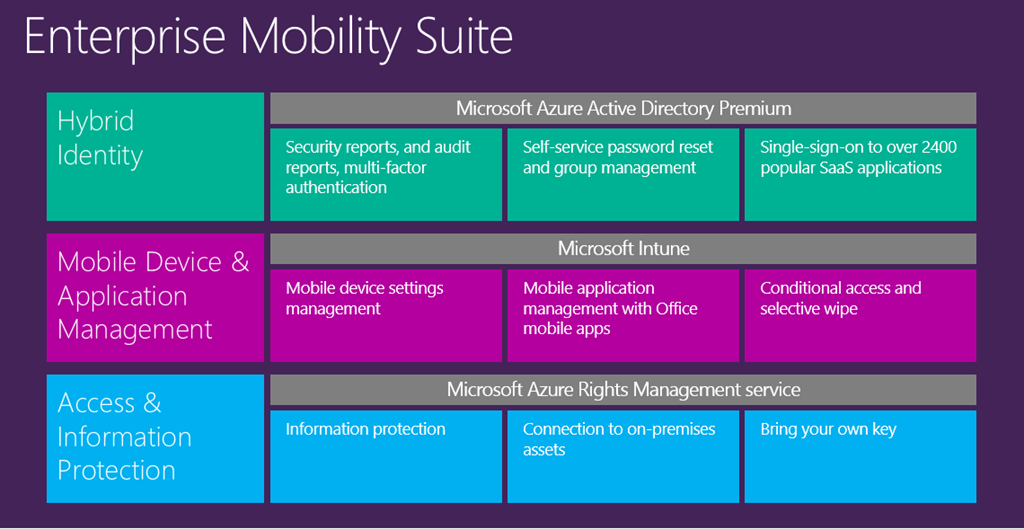 Since its release last year, Microsoft Enterprise Mobility Suite (EMS) was only available via the Enterprise agreement. Since March 1st, Enterprise Mobility Suite is available for sale through distribution via Microsoft's Open License Program. Open Licensing offers flexibility and potential cost savings making it possible for distributors and re sellers to sell additional cloud services to small and medium-sized enterprises.
What is Enterprise Mobility Suite?
EMS is a product suite which include 3 products :
Cloud-based enterprise mobility management that helps you control employee access to corporate applications and data on virtually any device
Mobile application management across devices
Broad device support for iOS, Android, Windows and Windows Phone devices
Selective wipe of apps and data for greater security
Use of System Center Configuration Manager and Endpoint Protection
See a full product demo here
Azure Rights Management Services (RMS)
Comprehensive encryption, identity, and authorization policies designed to secure corporate files and email across phones, tablets, and PCs
Information protection from the cloud or in a hybrid model with your existing on-premises infrastructure
Integration into your native applications with an easy-to-use SDK
Windows Server Active Directory Rights Management Server CAL use rights
See a full product demo here
Microsoft Azure Active Directory Premium
Enterprise-grade identity and access management for nearly any app or device, cloud or on-premises. Delivers single sign-on, multi-factor authentication, self-service passwords, and more
Self-service password reset to reduce helpdesk calls
Multi-factor authentication options for greater security
Group-based provisioning and single sign-on for thousands of SaaS apps
Machine learning-driven security reports for visibility and threat management
Robust sync capabilities across cloud and on-premises directories
See a full product demo here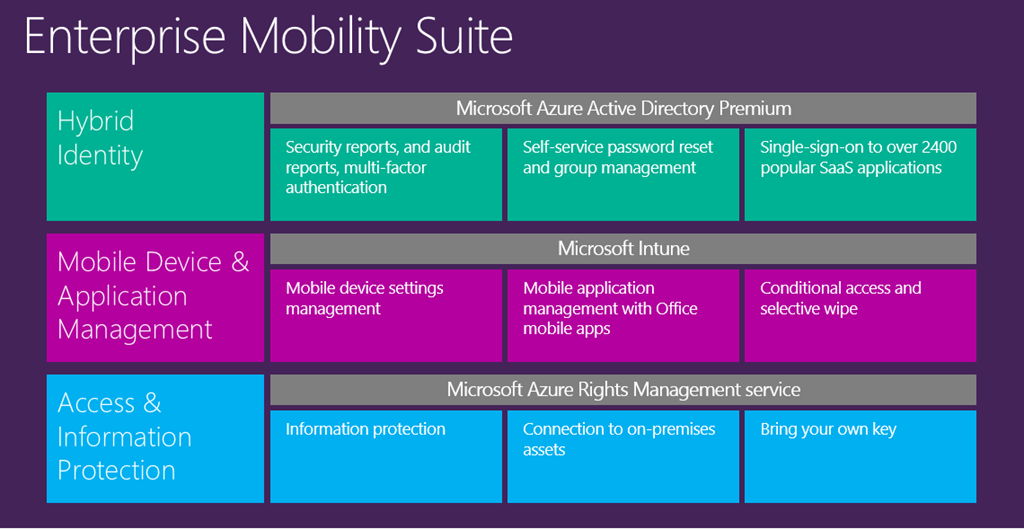 Why Microsoft ?
Microsoft is the only provider that offers all products in a single contract.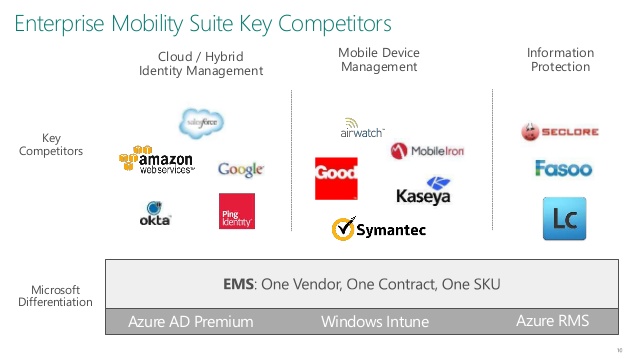 Pricing
EMS represents a great value, the pricing is discounted versus the purchasing the component separately.
Azure Active Directory Premium =$6 per User /Month ($72 annually)
Windows Intune (without Windows Client OS) = $6 per User /Month ($72 annually)
Azure RMS = $2 per User /Month ($24annually)
EMS would cost a small business 7.60$ per month versus 14$ if purchase separately. That's almost a 50% discount.
See the complete pricing model using this link
Evaluation Version
Evaluation version are available to try at the following link
How to buy
It's easy to buy Microsoft enterprise mobility solutions for your business, and to keep things simple, each product is priced per user, not device. Volume discounts can be offered.
Questions? Call 800-426-9400 (US) or 877-568-2495 (Canada) for sales.