We have compiled a list of SCCM Endpoint Protection agent versions, build numbers and cumulative updates. Anti-Malware platform updates are cumulative, meaning that the latest one includes the previous one.
If you are new to System Center Endpoint Protection, see our complete guide which covers it all. We documented a few years back… since the SCCM 2012 RTM release. If we missed some versions, please let us know and we will update this post.
This post will be updated as new releases are made available.
**Updated 2017/04/10**
How to get your SCCM Endpoint Protection Agent Version Numbers
An easy and built-in way to evaluate Endpoint Protection version of the agent is to use the Software Update Compliance information:
Open the SCCM console, go to Software Library / Software Update / All Software Updates

Click on Add Criteria and check: Product & Update classification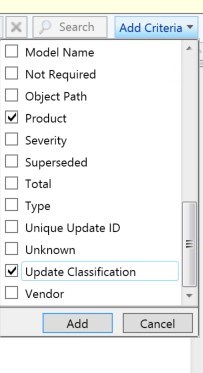 Select Product: Forefront Endpoint Protection 2010
Update Classification: Critical Updates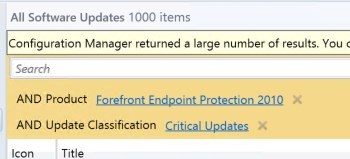 This will list all available System Center Endpoint Protection agent versions available and provide statistics of Installed or Required

System Center Endpoint Protection Agent Supported Platform
Microsoft plans to release one or two Anti-malware platform update per year for down-level OS (Windows 8.1 and up)
Here's Microsoft official statement about supported platforms:
During the technical support (only) phase, commercially reasonable support incidents will be provided through Microsoft Customer Service & Support and Microsoft's managed support offerings (such as Premier Support). If a support incident requires escalation to development for further guidance, requires a non-security update, or requires a security update, customers will be asked to upgrade to the latest platform version.
(Platform versions older than N-2 are no longer supported.)
| Version | Availability Date | Supported Phase |
| --- | --- | --- |
| 4.7 (baseline) | February, 2015 | Technical Support (Only) for upgrades to the latest platform version |
| 4.8 | May, 2015 | Technical Support (Only) |
| 4.9 | April, 2016 | Technical Support (Only) |
| 4.10 | October, 2016 | Security and Critical Updates |
For more details on the supported platform, see the Technet Article