When deploying Windows 10 1709 Feature Update using SCCM, you may encounter errors when running the installation in Software Center. These errors are sent by the Windows setup itself, they are not related to SCCM. In this post, we'll show you how to troubleshoot these error and how to resolve the error 0xC1900208 – 1047526904. This post assumes that you've done the preparation steps to deploy features upgrades with SCCM.
Windows 10 1709 Troubleshooting
Here are some basic troubleshooting tips that you need to understand before proceeding. This blog post is not about troubleshooting any errors, we'll focus on the frequent 0xC1900208 error but we think that you need basic understanding before proceeding. If you're already familiar with this process, skip to the next section.
When launching a Windows 10 feature update from SCCM :
Upgrade files (ESD and WindowsUpdateBox.exe) are downloaded in SCCM cache (C:\Windows\ccmcache)
Relevant content is also stored in C:\WINDOWS\SoftwareDistribution\Download
ESD file is unpacked in the C:\$WINDOWS.~BT folder (hidden)
Windows setup is launched from that last location
Relevant Log files are located in C:\$WINDOWS.~BT\Sources\Panther
To read log file in the Panther directory, ensure to start CMtrace using Administrative privileges
Theses 3 location will get referred in this post. Here's the relevant Microsoft documentation that will help you troubleshoot any Windows installation errors:
Resolution for Error 0xC1900208 – 1047526904
So let's get back to our main topic which is resolving Error 0xC1900208 – 1047526904. This post has been made on Windows 10 computers using build 1607 and 1703.
When running the Windows 10 feature update from the Software Center you receive the error 0xC1900208 :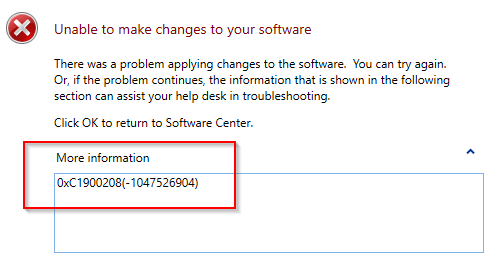 When retrying a second time the error 0x80240020 is returned. Don't use this error for troubleshooting, use the first one.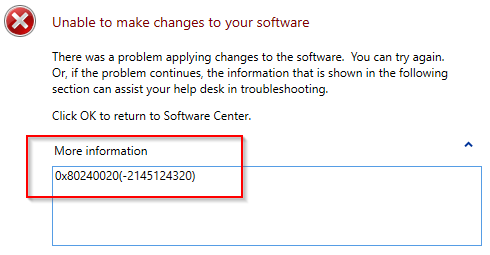 Same error is shown in C:\Windows\CCM\Logs\WUAHandler.log

Error 0xC1900208 - 1047526904
Following
Microsoft documentation
our error is due to  :  This could indicate that an incompatible app installed on your PC is blocking the upgrade process from completing. Check to make sure that any incompatible apps are uninstalled and then try upgrading again.
The first easy troubleshooting step you can do at this point is to launch setup.exe from the C:\$WINDOWS.~BT directory.
After going through the first screens, the setup will warn you about those incompatible apps. Here are 2 examples we encountered.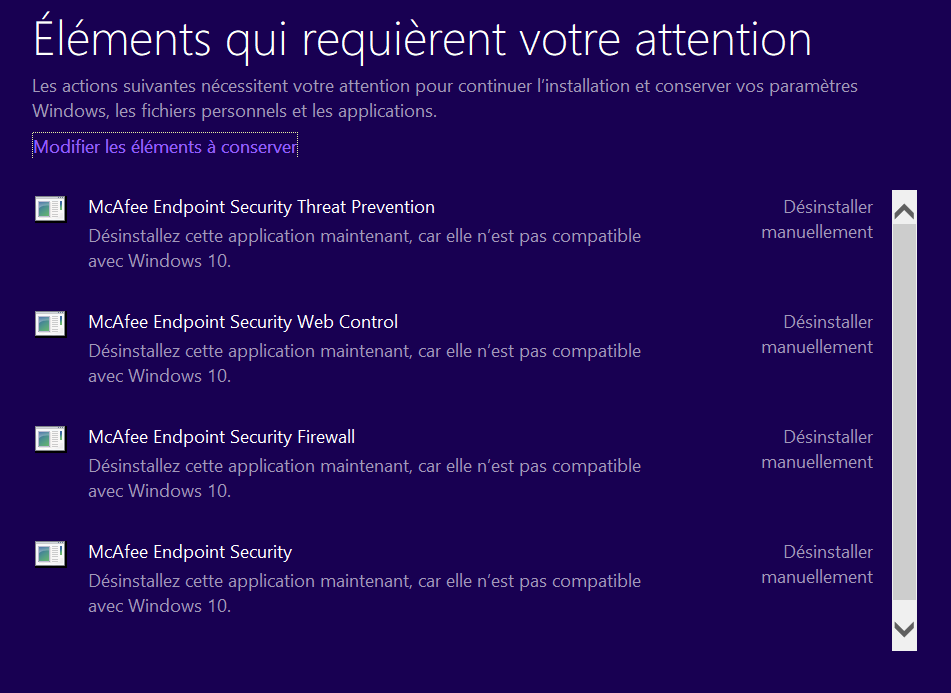 If you don't want to run the setup.exe, you can refer to the C:\$WINDOWS.~BT\Sources\Panther\CompatData[date-time].xml. You'll have a couple of Compatdata.xml files, usually, the most recent one will contain the information you need. In this example, Mcafee is the faulty application and give setup the instruction to stop


Our next action was to check the Mcafee website to check if Windows 10 1709 is supported. Unfortunately, it's not yet supported at the time of this writing. The only option we had was to completely uninstall the Mcafee suite from the computer
Once uninstalled, a couple of steps must be performed to restart the upgrade process. If you simply hit Retry in Software Center, it won't work.

Empty the SCCM Cache
Delete the content of C:\WINDOWS\SoftwareDistribution\Download folder
Delete the C:\$WINDOWS.~BT folder (hidden)
Initiate a Software Update Deployment Evaluation Cycle and Software Update Scan Cycle

Wait a couple of minute for the scan to complete and retry the deployment
The deployment will now work, no more 0xC1900208 errors! You can follow the process in the C:\$WINDOWS.~BT\Sources\Panther\Setupact.log file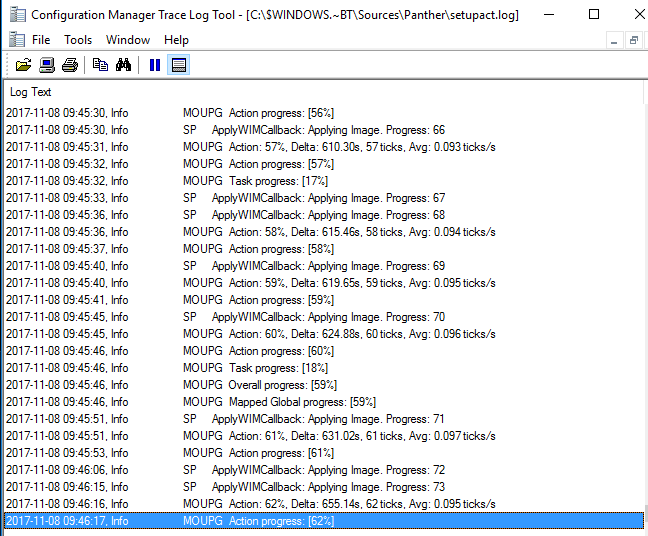 You've now mastered the 0xC1900208 error and can continue your Windows 1709 migration !